To see this site as designed, please activate your Ad-blocker for https://sites.rootsweb.com/~andersonfamily/
Welcome
to the
Anderson & Rondeau Family
Genealogy Website

Lest we forget

Where we've come from and/or where we are now.
Click Flags for National Anthems


Beckett
Family Crest


Rondeau
Family Crest


McPherson
Family Crest


McLeod
Family Crest
The Family Tree ©
The Family Album ©

Genealogy Information, some dating back to the year 1545 for the

Anderson, Andersen, Beckett, Farrell, McLeod, McPherson, Rondeau and Rondo

families, as well as many others who married into these families. Updated 29 March, 2021 (7100 individuals). There is also a truncated family tree at Ancestry. Click here

Treasured photos of people, homes and gatherings from the 1800s up to present day.
(Photos are low resolution, NOT SUITABLE FOR PRINTING)
Updated 9 April, 2021.

Updated as new Information/Photos received


Interesting Information
1900 US (Nebraska) Census showing Andersons
Click here
Old family letters 1916 - 1942 (Some WWI from Europe)
View Letters (Pdf file)
***

Early Photos of Canadian Prairie Towns plus Old Prairie Province Maps
Website
***

Early Maps of Pertinent Areas
Early Maps of areas where our Family lived
***


Places & History - Nova Scotia
Where McPhersons and McLeods lived

Scottish Settlement in PEI & Nova Scotia 1790 - 1815 (by D. Robert MacKenzie)
***

S/S Thingvalla Information
The Andersen Family emigrated from Copenhagen, Denmark in February of 1892 aboard the S/S Thingvalla.
Read the story and see photos of the Thingvalla, and a story of the collision with the S/S Geiser,
here
Read the passenger manifest for the voyage the Andersen's arrived on,
here
***

Interesting Information about Denmark
Historical dates, family naming patterns, and general genealogical information, is available
here
***


Early History of the Kootenai Indians of British Columbia, Idaho, and Montana
Joseph Rondeau married Josephine (Josephte) Beaulieu who was a Metis, half Kootenai Indian and half French.
Article about Joseph Rondeau and Josephine Beaulieu
What is a 'dit' surname in French Canadian families
Information about the Kootenai's
***

Early History of Minneapolis (Frogtown)
Historical information (excerpts) written by A. Hoffmann in 1935 about the early history
of St Paul, mentioning Joseph (Joe) Rondo and the Rondo Avenue area.

***

Genealogy Links on the Internet
If you are interested in genealogy and want to do research on the Internet, visit Cyndi's List
and FamilySearch, two of the top sources of genealogy information on-line.
***

Currently Researching:
Anderson -
Canada
; Andersen -
Denmark
; Beaulieu (Boileau) - Canada; Becket (Beckett) -
Canada & USA
; Rondeau (Rondo in USA) -
Canada & USA
;
McLeod & McPherson -
Nova Scotia, Canada & Scotland
; Farrell - Alberta, Canada

Personal Web page Links
Gary Anderson's Homepage (adblocker must be OFF)

Gary's Homepage and other links




Homepage - Larry & Jan's photos, their home and other interesting links (Revised December 2015)




Military

James 'Jim' Anderson
History of RCAF Marine Squadron
Photos of Crash Boats
More photos of Crash Boats

Inar Anderson D.C.M. - wrote an article in the Forty-Niner magazine re his WWI experiences in January 1932 - see page 5

Edwin Graham Milton Anderson


Mount Royal University in Calgary has started a bursary program in honour of alumnai who were killed in action during times of war. A member of our family, Pilot Officer Edwin Graham Milton Anderson, was unfortunately one of those killed in the second world war. More about the Military Memorial Bursary Program
In 2011, Mount Royal's centennial year, we created a memorial bursary in the name of each of our fallen soldiers. As our official sesquicentennial initiative to celebrate Canada's 150th anniversary, we seek to raise funds in order to create permanent endowments for each of these bursaries.
These Military Memorial Bursaries will honour the ultimate sacrifice made by the fallen members of our Mount Royal family, while furthering the dreams of 28 Mount Royal students, every year, in perpetuity.

Jim Anderson was a member of the RCAF Marine Squadron, and was the skipper of the Montagnais (M234) high speed crash boat, rescuing crews from downed aircraft on the British Columbia coast during WWII. The area they covered were the waters off the Alaskan panhandle and the BC coast.




Inar Anderson was a Lieutenant in the army during WWI and writes about some of his personal experiences in this article.


Pilot Officer Edwin Graham Milton Anderson Died Sept. 1, 1941. Edwin 'Graham' Anderson, the first Mount Royal student to be killed in action during the Second World War, was born in 1920 and attended Mount Royal in 1940, when he was elected president of the High School class. The Chinook Yearbook called him "a modest and shy student" and remarked he was "a loyal enthusiast of the air force after the Christmas Exams." Upon leaving Mount Royal, Anderson enlisted as a Pilot Officer in the 102 Squadron, Royal Canadian Air Force and was killed on Sept. 1, 1941. Pilot Officer Anderson is buried in Schaffen Communal Cemetery in Diest, Belgium. 'Graham' was shot down and killed on duty with the Royal Canadian Airforce (RCAF) in World War II. He was the pilot of a Whitley bomber that was shot down on a mission over Europe, 31 August, 1941. Photo of Graham
Information on Edwin Graham Anderson's grave in Germany

Whitley bomber video https://www.youtube.com/watch?v=VUHBDP8vq2g


Ryan & Becky Anderson 'F&M the Band' website

Ryan & Becky Anderson have a baroque-pop outfit, F&M based in Edmonton, AB Canada. For more than 10 years, the couple have been indispensable stalwarts — releasing six of their own albums and touring through Canada and Europe. F&M is excited to share a sneak peek of 'And We Will Mend Our Broken Hearts'. The album was released on November 4, 2014 and a Canadian Tour followed.
F&M also won the Adult Alternative Record of the Year award for their album 'Lessons fron Losers' at the Edmonton Music Awards, June 2019. Link to F&M website.

Marion Lane's Blogs - Updated regularly
The Effervescent Bubble



Effervescent Bubble - My intent is to write about whatever tickles my fancy: a cacophony of subjects including current affairs, city life, life transitions, the arts, our institutions, modern technology, fitness, travel, whatever - Marion Lane.


Janet's huge Gordon Family Tree (Australia & Scotland primarily)

-The wonderful works of Albert P. Anderson - Click here
-The Anderson & Campbell family history kept by Albert P Anderson starting Nov. 27, 1929 until Feb. 6, 1951 when it was passed on to Albert G Anderson. Link to see this handwritten family history.

The wonderful art and works of Albert Peter Anderson (1890 - 1965). If anyone has any of Albert's creations, Don Anderson would appreciate a photo, and if they have a story about the artwork, that would be appreciated as well. New photos added to this record March 2019.
Email Don at apandersonfamilyphotos@gmail.com

The Pacific cruise of the Canadian Registered Yacht IsaLei-Rua 1990 to 2000. Vancouver - Sydney, Australia - New Zealand (Map)

Photos and information about IsaLei-Rua, the yacht Larry Anderson owned from 1986 - 2000.

Please READ THIS
Several people are now publishing their own Homepage as well as other pages. If you are a member of this family, and included in the Family Tree, please send me an e-mail with all the particulars and I will add your link above.
I have put together a Family Address/E-mail Listing to enable better communication within the family. If you are a member of the family and on the family tree, and you wish to be included in the list, and have the password for the site e-mailed to you, please e-mail me with your name, postal address, postal code/zip, e-mail address and your homepage url if applicable. You must be able to prove your family connection and have another family member confirm your request.
If you have Family Photos you wish included in the Family Photo Album, please e-mail them to me, or send me an e-mail requesting my mailing address. Remember printed photos and negatives have a very short lifespan whereas digital photos never deteriorate. Preserve the photos of our family - please! Note: The photos on the site have very low resolution which makes them fine for viewing on a screen but very poor for printing. A printed copy of these photos will be very blurred and pixelated.
If you find any errors or omissions in the family tree, photo album or would just like to make a comment, please e-mail me.
Note: To insure you are looking at the latest revision of this site,
please click the

REFRESH BUTTON

on your Browser!


Copyright Information

©

COMMERCIAL or UNAUTHORIZED USE OF ANY PART of this Website, or pages linked to this website is


ABSOLUTELY PROHIBITED

unless otherwise stated!



Disclaimer
The information/text material found within, is posted with good conscience and thought to be true and correct; but we do not guarantee the accuracy of information/text material,
which must be viewed in a similar way as other information on the internet.

***
These pages are tested to work with the latest versions of these browsers with an ad blocker extension installed;
Firefox, Google Chrome, Iron, Brave, Opera, Internet Explorer, MS Edge,
Safari, Vivaldi as well as most Android & Apple devices.
Other browsers or earlier versions could render pages or images incorrectly.

Website Revisions

Family Tree Database Revised

29 March, 2021

Website Content Revised -

9 June, 2021


Thank you for visiting our Family Web Site
You are visitor number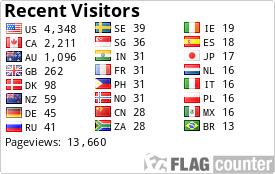 Website by
Red Head