Welcome to Quest Stars Shelties & German Shepherds. I am in the slow process of revising and updating my site, so Please have patience and overlook any mistakes that will be corrected.

Hope you have a Pleasant and Enjoyable stay. Do come back to visit Us again!
IF ANY PICTURE/S DO NOT LOAD, REFRESH THE PAGE/S.
........................
Quest Stars Shelties & Shepherds

"Hi!...My name is "Sissy". Mom & I are Available as companions on Spay contracts to Loving, Forever Homes. PLEASE call 252-358-2287 or email Mommy for more info on adopting me or Mom...!!!"

.......While you are here looking, Please visit the AVAILABLE PAGE to see my very sweet & dear Mom, "GRACIE".
"Stop by and Sign The GuestBook, to let us know you were here!"
QUEST STARS SHELTIES
AND
German Shepherds
Copyright © 2000, 2001, 2002, 2003




Quest Stars is a small Hobby kennel, Breeding with the utmost concern for the Shetland Sheepdog & German Shepherds destiny. We are located on the outskirts of my home town of Winton, NC., Breeding for all around physical and mental Health, AKC standards, conformation show quality, occasional performance and pet/companions. We test all Sheltie adults of breeding age for VWD, Thyroid, Hips and Eyes. Our puppies are born and raised in our house, where they have constant contact with us Humans and other house dogs. All pups will be Microchipped and have a written Sales/Health Contract. We give a (5) year genetic health guarantee on Shelties and 2.5 year on Shepherds, 72 hours for vet check and satisfaction of puppy.
BOYS
"Trevor"
Ozark Crest Forever Memories
"Pate"
Quest Stars Cimmaron Dance
"Rhythm"
Cascadel Quest Star Timepiece
GIRLS
"Trudi"
Ozark Crest Noble Quest Star
"Gloria"
Echobar In The Scheme Of Things
"Shaleigh"
Banc-Dega Shaleigh's Strive
Sheltie Links
...........................................................................Sheltie Breeders
If you'd like to see what makes a "TICK" so hard to remove from your animals. This is a pic I took w/My 35mm camera through a Microscope.
MY SHEPHERD QUEST
It has always been a childhood dream of mine to have purebred dogs of excellent quality, intelligence and endurance.....So let me start by telling you of the one dog that set my heart a fire with a dream of more like her. Her name was Kelly, My first AKC registered German Shepherd. I'll try to make this short, if possible. It was in 1969, just started my first real job, but hadn't received a pay check. I had found an ad for AKC Shepherd pups and I called. The lady was a school teacher. I explained that I didn't have enough money until I got paid, so she told me to call back when I had my money. I couldn't and didn't want to wait, so my friends lent me the extra $$ I needed. When I went to look at the pups, there were only three. This little ball of fur came running to the door and completely stole my heart....When I told the lady, "she's the one I want!", my heart sank.....when she said, "She's already spoken for." As I looked at the others I knew they were not for me, so I told the lady I really wanted her, but I guess I would have to look elsewhere. As I turned and was going down her steps, she said wait!.......The person that asked for her has not been back and I want her to have a good home, So if you still want her, she's yours. I took her home and named her after a movie called "Kelly and I". The movie inspired me to teach this dog as much as possible. She gave me eight wonderful years of her life. Everyone who knew her, loved her. Even the school teacher came to see her and was proud of how she turned out and that she was so intelligent. I wanted to put her in shows but was told back then that I couldn't because of her medium coat length. It has been almost twenty four years since her passing and even now if her name is brought up around old acquaintances, she is still praised for her intelligence. I still have her picture up and know that one day we will meet again. Her faithfulness and desire to please, instilled a passion in my heart that changed my life forever.

I will carry the Memories with me Always
"I salute you Kelly" June 19, 1969-1977

Copyright © 2000,2001,2002,2003
---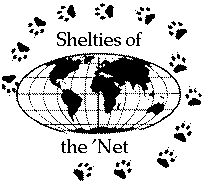 Next Site | Skip Next Site | Random Site | Previous Site | Skip Previous Site
For information on the Sheltie web ring, click here.

Some GRAPHICS BY