Civil War Veterans 1861-1865
One in four soldiers - 620,000 people (perhaps 850,000) - died as a result of the Civil War. That's 2 percent of the population - 6.14 million people in today's terms, which is twice the size of Chicago.
But most of them didn't die in battle.
The G.A.R. Grand Army of the Republic became the largest organization of veterans of the Civil War. Many veterans of the Civil War have G.A.R. medallions next to their tombstones which should contain a new flag every fourth of July.
U.S. Highway 6 crosses 14 states starting in 1925 Provincetown, Massachusetts extending to Bishop, California by 1937 as the Roosevelt Highway. In 1953 it became designated the Grand Army of the Republic GAR highway with signs in all 14 states. As many as 100 signs in Indiana. There is a Route 6 Tourist Association on Facebook.
The Allen County Public Library in Fort Wayne, Indiana is looking for any military records and photos to share on their Genealogy Center Our Military Heritage web site. If you have material to share as well as provide a backup copy so you don't lose irreplaceable historical materials contact Curt Witcher the manager of the Genealogy Center.
Jacob BRENNER
A first cousin five times removed, killed in active duty, husband of Matilda ZUMBRUN of Montgomery County, Ohio.
Abraham EIKENBERRY
A second cousin four times removed, son of Elizabeth KINGERY and Henry EIKENBERRY of Preble County, Ohio. Abraham was married to Lydia KINGERY his first cousin once removed. Abraham was killed at Chickamauga, Georgia September 18-20, 1863 with 34,000 total casualties in a Confederate victory.
Samuel David FALLIS
A second cousin five times removed from Switzerland County, Indiana, a 2nd Lieutenant in the Indiana 50th Regiment Company I, he died February 16, 1862 in Nashville, Tennessee. His parents Samuel FALLIS and Rebecca ADAMS are buried in the FALLIS Cemetery in Mount Sterling, Switzerland County, Indiana. His father Samuel was a first cousin to my fourth great-grandfather Isaac FALLIS of Greene County, Ohio.
Jacob FALLIS
Of Sugarcreek Township, Greene County, Ohio an Infantry private in Company H, Regiment 34 from George F. Robinson's book, After Thirty Years: A Complete Roster by Townships of Greene County Ohio Soldiers in the Late Civil War. Not clear how related. Likely son of Isaac FALLIS Jr. whose marriages and children remains a confused mess waiting for clarification.
William H. Fallis
Sgt Company D, 19th Regiment U.S. Infantry buried Lancaster Cemetery, Lancaster, Huntington County, Indiana, event date: April 6, 1889, headstone supplied by (W.H. & F.S.) Gross Brothers Lee, Massachusetts, Contract ?, 5 1891, my 2nd-great uncle, son of Thomas and Catherine EIKENBERRY FOLLIS. Information from Image 125 of 894 United States Records of Union Veterans, 1879-1903 on FamilySearch.org.
Isaac E. FOLLIS
A great-granduncle was a blacksmith from Somerset, Wabash County, Indiana who died and is buried in Marion, Grant County Indiana. He may have served with his father Thomas below. He was in the 153rd Indiana Infantry. See his Fold3 Memorial.
Isaac K. Follis
My 3rd-great uncle was in the 63rd infantry Army Ohio - see Fold3 Memorial.
I have NOT found any confirming records for my great-great-grandfather from Wabash County, Indiana. He is listed in the Indiana Civil War Records from the Adjunct General as Thomas FOLES. The National Archives have no records for him. I still need to check with the state of Indiana and the Wabash County, Indiana Historical Society's new museum might have records I haven't seen.
I have a separate page of FALLIS - FOLLIS men who served in the Civil War. Isaac is on this list, Samuel and Thomas are not. Not all veterans made it to the federal lists of names. The commanders of the various regiments were required to submit names to the Federal Government as they were recruited and after the war was over. Not all units were properly accounted for as terms of duty were as short as 3 months and many men transferred to different units as some were disbanded and new ones formed.
David HART
Husband of my great grandaunt Sarah Emma PROUGH, David born in Ohio was raised in LaGrange County, Indiana, spent three years service in Company H 44th Indiana Volunteers retiring as a sergeant.
Albert W. HINSEY
First cousin four times removed of Butler County, Ohio Ohio Volunteer Infantry Company H and a yet to be indentified James M. HINSEY 12th Regiment Company G Ohio Volunteer Infantry.
Henry KELKER
A second great-granduncle, his tombstone says he was in Company B 179th Ohio Infantry and newspaper obituary says Company K 101st Ohio Regiment. A railroad engineer, he was apparently injured since he spent 30 years in the National Soldiers Home in Marion, IN probably from the time of its 1888 opening. Henry also may have been in 11th Regiment Ohio Calvary and 181st Regiment Ohio Infantry.
Samuel S. KELKER
A second great-granduncle, brother of Henry KELKER, he was in the 11th Indiana Battery. May have also served in 9th Regiment Indiana Infantry for 3 months in 1861 and when 11th Battery consolidated November 21, 1864 with the 18th Battery Indiana Light Artillery.
Israel KINSEY
A first cousin three times removed was a Corporal in Company B 12th Indiana Infantry buried in Coesse, Whitley County, Indiana.
George NEFF
A first cousin three times removed, son of Lydia KINSEY NEFF BURKETT, died at Chickamauga. See Abraham EIKENBERRY for Chickamauga. information.
William J. OLIVER
A first cousin four times removed, died June 18, 1899 served in Company D Indiana 18th Regiment Volunteer Line from LaGrange County, Indiana
Thomas ROBBINS
Husband of second cousin four times removed Sarah Ann ZIEGLER of South Bend, Indiana.
Merridth Washington TIMMONS
A second cousin three times removed of Pyrmont, Montgomery County, Ohio.
"Jerry" Jeremiah M. VAUGHN
Grant's March in Louisanna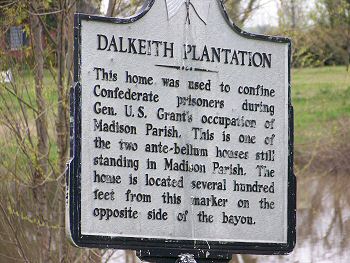 Second cousin four times removed of Winchester, Randolph County, Indiana, son of John VAUGHN Jr. and Mary RAMSEY, married to Nancy FOLLIS his first cousin. Jeremiah was in Company F, 16th Infantry Regiment Indiana died on February 22, 1863 at Young's Point, Louisianna. Some Regiment history is here and Wikipedia. A quick glance at "The Civil War in Louisiana" by John David Winters indicates Jeremiah may have died of disease while thousands were digging canals connected with the Mississippi River where "From time to time Pemberton's guns would drop a shell into the working crews, leaving a few dead, others maimed and all frightened." "Epidemics of smallpox, measles, mumps, dysentery, and swamp fever raged through the camps." Jeremiah was likely buried along the river. Grant's Canal is seen in northeast Louisianna map.
David WAUGH
Husband of Mary KINZIE a first cousin three times removed, joined Company E, 17th Indiana Mounted Infantry, with which he served through all its marches and engagements until mustered out at Macon, Georgia, in August, 1865, having taken part in the battles of Kennesaw Mountain, Atlanta and Selma.
My 2nd great-grandfather Joseph ZEIGLER was a Brethren minister and founding family of the Blue River German Baptist Church in Whitley County, Indiana and his father David was River Brethren, both known as "Peace Churches" opposed to military duty and war, yet had six family members serve. Son Daniel served and two brothers died: Henry and Moses, thus his father David lost 2 sons. Joseph had two ZUMBRUN nephew's enlist, brothers Jacob ZUMBRUN died at Murfreesboro, Tennessee and Levi enlisted with Joseph's son Daniel ZEIGLER in Allen County, Indiana. Joseph's third cousins Israel KINSEY and Mary KINSEY's husband David WAUGH were also veterans from Whitley County, Indiana.
Benjamin ZIEGLER
First cousin four times removed, son of Philip "Lykens Valley" ZIEGLER of Lykens Valley, Dauphin County, Pennsylvania killed in the Civil War
Daniel ZEIGLER
A great-granduncle, son of Saba KINSEY and Joseph ZEIGLER , enlisted in Allen County, Indiana with his first cousin Levi ZUMBRUN
Henry ZIEGLER
My second great-granduncle, son of Marie EHINGER and David ZIEGLER, according to his half-brother Abraham, brother of Moses below, wrote in his journal "fell in service in the Civil War" records show died before August 19, 1865. Henry's wife Lydia JOHN settled his estate in August 1865 in Montgomery County, Ohio where his family stayed and Noble County, Indiana where his siblings my Joseph, Philip, and Elizabeth COOK lived and Henry apparently was planning to move.
Moses ZIEGLER
My half second great-granduncle, son of Lydia FRANTZ and David ZIEGLER, died June 1, 1864 near Cold Harbor, Hanover County, Virginia in Company I 110th Ohio Volunteer Infantry or Company B 86h OH Volunteer's. 15,500 total troops died, 13,000 were Union troops.
Jacob ZUMBRUN
My second great-granduncle, of Company G, 44th Indiana Regiment, rank of Private, son of Judah KINSEY and Henry ZUMBRUN, died January 21, 1863 in Murfreesboro, Tennessee of pneumonia caused by Typhoid Fever. Fought at Shiloh and Stone River, "Was a good and faithful solider. None better." Likely reburied in unmarked grave at Stones Run Cemetery Murfreesboro, Tennessee established a year after his death March 29, 1864.
Levi ZUMBRUN
A second great-granduncle, brother of Jacob above, enlisted in Allen County, Indiana with his first cousin Daniel ZEIGLER
Thomas ZUMBRUN
A second cousin four times removed died at Andersonville the notorious Confederate Prison in Sumter County, Georgia where 13,000 Union troops died. It is now a national park.
Other Information
Headstones Provided for Union Civil War Veterans, ca. 1879-ca. 1903 at the Military Records of The National Archives discusses the 22 roles of microfilm of 166,000 cards of headstone contracts for deceased Union veterans of the U.S. Civil War. Includes a few War of 1812 veterans and at least one Revolutionary War veteran.
The Record - March 1998 a related publication to above headstone records at The National Archives.
United States Records of Headstones of Deceased Union Veterans, 1879-1903 at FamilySearch.org.
Genealogy research is never complete, more documents are coming online all the time so what wasn't found today, might appear another day. If you find research that adds to, or contradicts mine, please leave a
Comment
in my
Guest book
, join my
Follis Families on Facebook
page, or send me an
Email
.