Homepage for Hacketts of Tipperary
Welcome! My name is Bruce Brandon and this is my attempt to make a page for the sharing of images related to the Hackett families of County Tipperary, IRELAND !
I am new to the technology so bear with me as I upload photographs I have taken on my annual visits to the area in the past several years and try to find a way to categorize them.
For now, I will be entering : Photographs of the Cashel area. Photographs of Trinity Church in Fethard. Photographs of Newchapel Cemetery. Photographs of the Curraghtarsna area. And photographs of headstone inscriptions with locations as well as a map identifying the areas around south Tipp affiliated with the Hackett clan.
Give me a little while to make adjustments, and I will then solicit others to contribute their own photos for inclusion on the page. Currently I am packing and getting ready for my annual trip to Ireland when I will again focus on trying to place my Curraghtarsna Hackett family into the greater scheme of the Fethard Hackett family of Major James Hackett.
Stay tuned!
Here are some of my favorite websites:
LynneNelson's WorldConnect lineage starting with Major James Hackett - b.1755 Springmount (http://wc.rootsweb.com/cgi-bin/igm.cgi?op=GET&db=nel7&id=I1580)
the beginning : WorldConnect diagram starting with Pagamus DeHacket c 1150 of Cashel (http://wc.rootsweb.com/cgi-bin/igm.cgi?op=GET&db=nel7&id=I1171)

---
Here are the four Hackett effigies within the city walls of Cashel adjacent to the Church of Ireland Cathedral.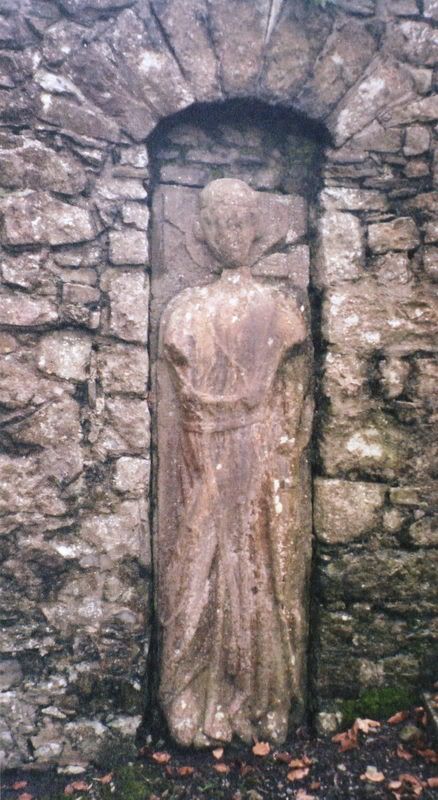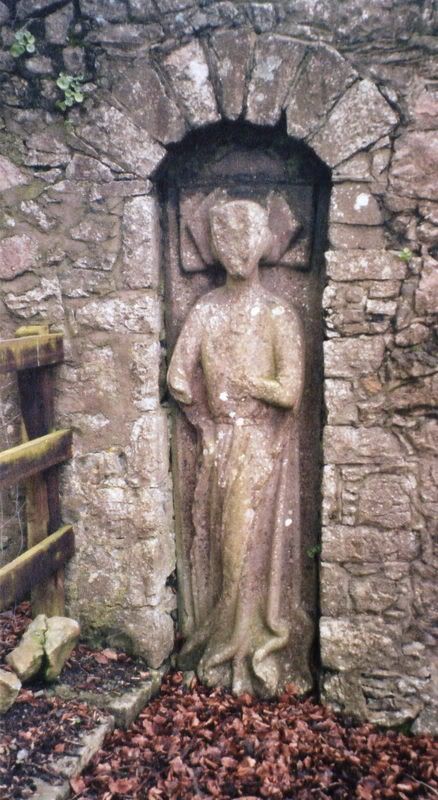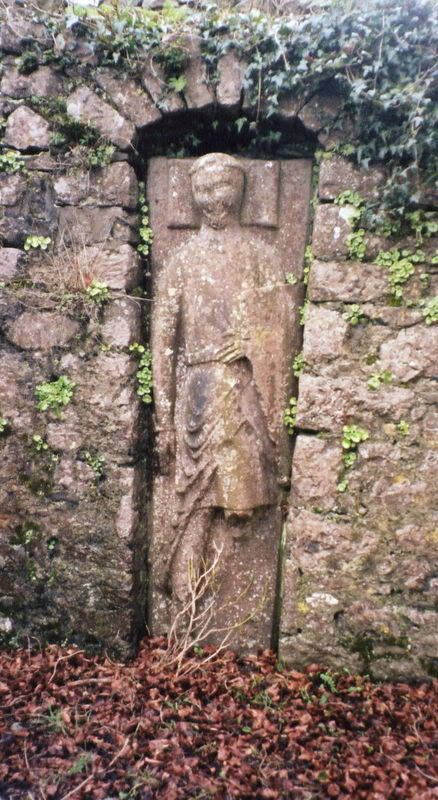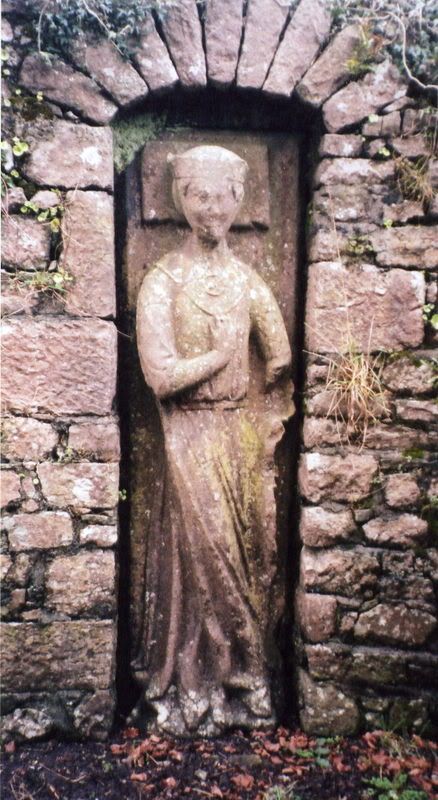 Originally in the Franciscan Friary, they may be the burial slabs of the benefactor Sir William Hackett and of his wife and family. From the origin of the Hacketts in Cashel (Pagamus de Hacket), the family began to move eastward. One group settled estates around the 13th century market town of Fethard. Estate names such as Orchardstown, Springhill, Knock Kelly, and Gambonstown among many. Interestingly enough, though founded by a Norman Lord who was installed by King John, the towns famous walls were erected in defence against the English in the 15th century. Mr. Joe Kenny of Fethard keeps a wonderful website dedicated to modern day Fethard along with a message board. It can be found here : www.fethard.com The town founder, William de Baose planned a very neat and efficient town that centered on a church dedicated to St. John the Baptist. At some point the church was destroyed, and was rebuilt, with the help of the Hackett family, in the 1500's and renamed Trinity Church. Killed during the construction was Edmund Hackett and his wife Anne Roket. They are buried in a crypt in a rear vestibule within the church itself. A Hackett family crest is embedded within one of the pillars in the main church.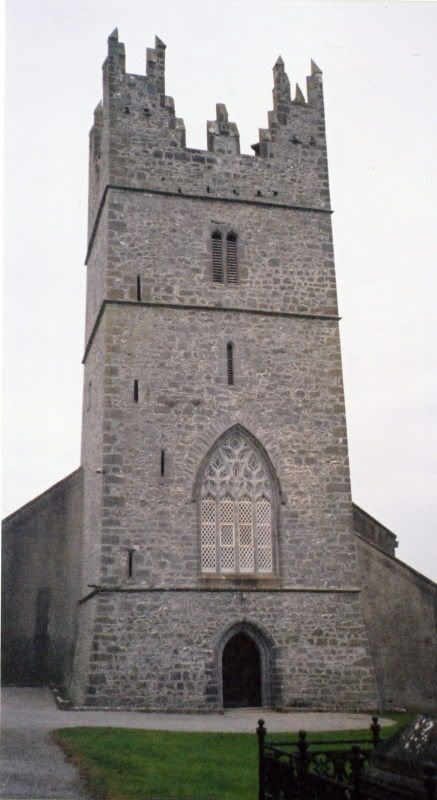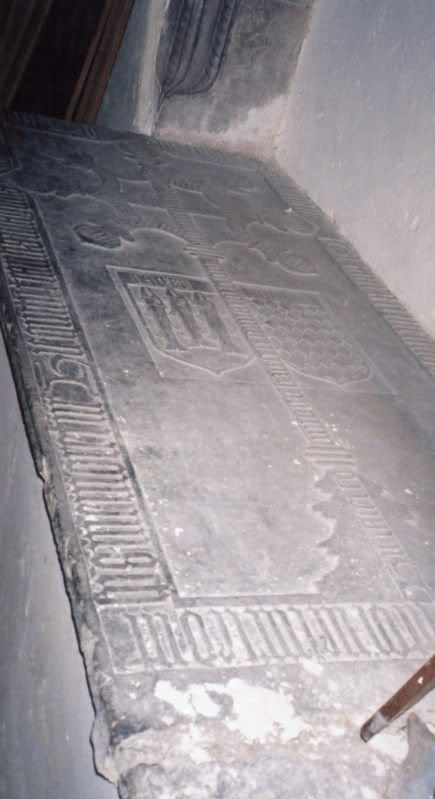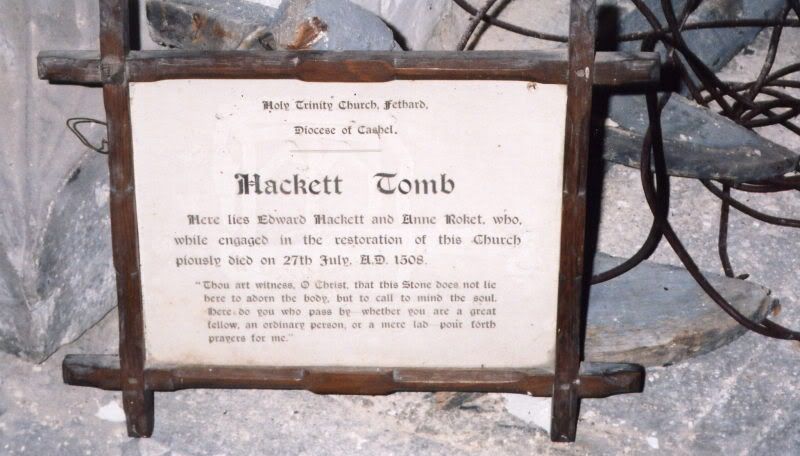 This page belongs to Hacketts of Tipperary.