Union County, Indiana Families
Google maps may be slow to load - wait for
c
o
l
o
r
e
d
pins to show
View Union County, Indiana in a Larger Map
Click
+
or
-
to Zoom
In
or
Out
, Click on the colored pin to see the details of the location
Click and drag the hand to move the map, or click the link above to see all my ancestor locations.
FamilyHistory101.com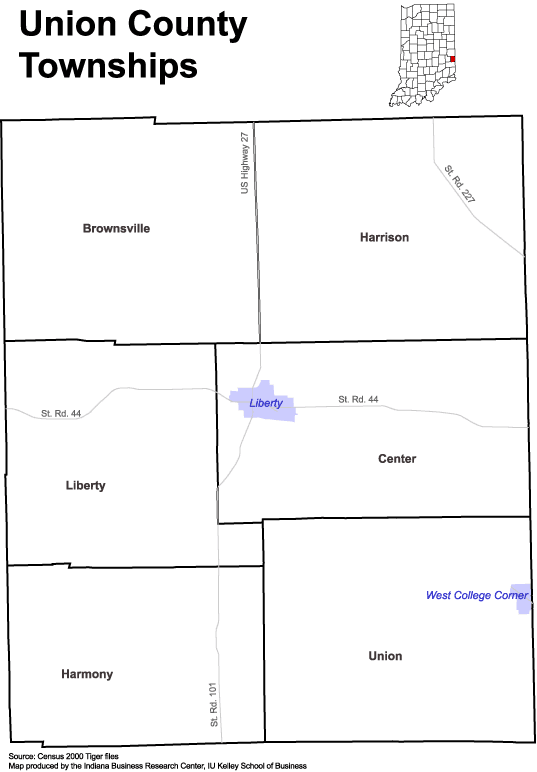 Located in southeast Indiana on the southwest Ohio border 40 miles west of Dayton, Ohio and 40 miles northwest of Cincinnati, Ohio formed in 1821 from part of Franklin County, Indiana.
Second great-grandparents Thomas Jefferson FOLLIS 1823 Greene County, Ohio to Union County, Indiana to 1882 Somerset, Wabash County, Indiana and Catherine EIKENBERRY 1822 Preble County, Ohio to Union County, Indiana then 1864 Somerset, Wabash County, Indiana. Thomas married Catherine November 11, 1841 in Union County, Indiana and his brother William Martin Follis married Mary Wright April 13, 1843 in Union County, Indiana. Catherine is buried in the Mississinewa Memorial Cemetery Somerset, Indiana and Thomas is assumed to be buried there.
Third-great-grandparents Samuel EIKENBARY 1798 Franklin County, Virginia to Preble County, Ohio to Union County then 1871 near Somerset, Wabash County, Indiana and Mary ALBAUGH 1790 Frederick County, Maryland to Preble County, Ohio to Union County then 1871 near Somerset, Wabash County, Indiana. Both are buried in the Mississinewa Memorial Cemetery formerly at Mount Vernon, but moved in 1960's to build the Mississinewa Reservoir flood control project. Their son Reuben Eikenberry's farm was across the road from the current cemetery.
Fourth great-grandparents Martin KINGERY 1774 Lancaster County, Pennsylvania to Franklin County, Virginia to Greene County, Ohio to 1865 Union County, Indiana and Mary "Polly" WEBB 1780 Franklin County, Virginia to 1818 Greene County, Ohio. Martin remarried to Mary HILDEBRAND. Buried on his early 1800's pioneer farm in Indiana, but within sight of the Ohio line, now known as Witter Cemetery his tombstone says he was around 91 years old making him one of my oldest ancestors. December 8, 1818 BLM land CV-0042-091 Union County, Indiana 1st PM 011N 001W NW¼ 26 Union from 5th President James Monroe and Wikipedia.
Using selected text from Merle RUMMEL's Four Mile COB we know fourteen Brethren families came from from the Blackwater River area of Virginia and Pennsylvania in the late 1700's and early 1800's into southwestern Ohio then into Union County following Elder Jacob MILLER from Virginia who preached west of the Great Miami River in Montgomery County, Ohio from the Bear Creek Church. The Four Mile Church of the Brethren was the first Brethren church in Indiana. Its records were destroyed in a late 1890's house fire. The only record was data gathered by Elder Jacob Rife in 1903. Some early family elders and ministers included Joseph KINGERY elected in 1809, William MOSS, married Mary EIKENBERRY, 1838 pioneer preacher and elder moved to Mexico in Miami County, John WHITENECK, married to Lucy KINGERY, elected in 1842 moved to Wabash County in 1847 and started the Somerset Church, Heil HAMILTON, married to Nancy KINGERY, November 1,1845 moved to Howard County, Isaac LAWSHE 1850 minister and elder moved to Somerset to join John WHITENECK, Edward M. COBB, son of Rebecca FOLLIS, June 29, 1891 who was at Cottage Grove and later became a Progressive Brethren, as well as deacons Joseph KINGERY, Samuel KINGERY, Henry EIKENBERRY, and Daniel EIKENBERRY. The EIKENBERRY's stopped at Eaton, Preble County, Ohio some KINGERY's stopped northeast of Dayton in Greene County while some stopped near Bear Creek in Montgomery County where Dayton is located before arriving at 4 Mile in Union County.
In 1812 Governor William Henry Harrison reviewed the local militia at the village of Boston just north of the Four Mile settlement.
On December 16 at 2 am the ground shook for two days. It happened again January 23, 1813 and February 7 toppling trees, reversing the flow and changing the course of the Mississippi River, leaving oxbows in Tennessee. It was estimated at 8.3 on the Rictor scale now known as the New Madrid Earthquake.
1816 was the year that had no summer expressed as "1816 and froze to death". There was a killing frost at least once during every month. It snowed June 7 with 3 nights of killing frosts. By June 11 the corn was withered and dead in the field. It was replanted and killed again August 20. Winter started September 27. Snow was two feet deep, deer was trapped in the snow and so many died they couldn't be depended upon for meat. The cause was a volcano on the island of Tambora, Java.
In 1832 a Cholera Epidemic struck in which every family lost some!
Union County Library

His most famous poem "Little Orphant Annie" was written about Mary Alice Smith who was born near Liberty, Indiana September 25, 1850 while the FOLLIS family was living in Union County, Indiana. Whether my ancestors knew and were aware of the poem's inspiration is unknown. I have read that thousands of people would gather to hear Riley read his poem's at picnic like gatherings similar to music concerts today.
The North Manchester Historical Society May 1995 newsletter has this James Whitcomb Riley Anecdote "Mrs. M. R. Gardner was the daughter of Dr. and Mrs. R. F. Blount. When she was a girl she had an interesting experience with James Whitcomb Riley. At that time Mr. Riley was merely known as "Jim Riley," a tramp painter. He became well acquainted with Mrs. Gardner's brother, and together these two did much sign painting over the country. Mrs. Gardner, who was then a little girl, was very fond of Jim Riley. She wanted to go in the buckboard with Jim and her brother, and one day they let her do so. As she sat down on the seat, her long braids of hair fell over the back of the seat, and the ends fell in Jim Riley's paint bucket. So when the trip was over, her mother had to spend some time removing the effect of Riley's paint." This supports my information about his sign painter days.
James Whitcomb Riley wrote a couple of poems somewhat connected to the my Union County, Indiana families. He wrote a poem called 'Mongst The Hills O' Somerset which some claim is Somerset, Wabash County, Indiana where he worked a summer as a sign painter. Most believe he was referring to Somerset, Pennsylvania which probably has the hills not really found in the flat to rolling land near Somerset, Indiana. An article in the April 14, 1890 Philadelphia Inquirer reprinted from the Pittsburgh Commercial-Gazette makes the case that Riley was in the Pittsburgh, Pennsylvania Gazette offices when he was inspired by a conversation with John Black on the romantic features observed while riding over the hills of Somerset, Pennsylvania.
Which KINGERY family the following poem was written about is unknown. James Whitcomb Riley born Oct. 7, 1849 near Greenfield, Hancock County,Indiana, due east of Indianapolis, would have written this poem well after my last direct KINGERY ancestor Martin KINGERY died in 1865.
On old Brandywine-- about
Where White's Lots is now laid out,
And the old crick narries down
To the ditch that splits the town--,
Kingry's Mill stood. Hardly see
Where the old dam ust to be;
Shallor, long, dry trought o' grass
Where the old race ust to pass!
That's be'n forty years ago--
Forty years o' frost and snow--
Forty years o' shade and shine
Sence them boyhood-days o' mine--!
All the old landmarks o' town.
Changed about, er rotted down!
Where's the Tanyard? Where's the Still?
Tell me where's old Kingry's Mill?
Don't seem furder back, to me,
I'll be dogg'd! Than yisterd'y,
Since us fellers, in bare feet
And straw hats, went through the wheat,
Cuttin' 'crost the shortest shoot
Fer that-air old ellum root
Jest above the mill-dam-- where
The blame' cars now crosses there!
Through the willers down the crick
We could see the old mill stick
Its red gable up, as if
It jest knowed we'd stol'd the skiff!
See the winders in the sun
Blink like they wuz wonderun'
What the miller ort to do
With sich boys as me and you!
But old Kingry--! Who could fear
That old chap, with all his cheer--?
Leanin' at the window-sill,
Er the half-door o' the mill,
Swoppin' lies, and pokin' fun,
'N jigglin' like his hoppers done--
Laughin' grists o' gold and red
Right out o' the wagon-bed!
What did he keer where we went--?
"Jest keep out o' devilment,
And don't fool around the belts,
Bolts, ner burrs, ner nothin' else
'Bout the blame machinery,
And that's all I ast!" says-ee.
Then we'd climb the stairs, and play
In the bran-bins half the day!
Rickollect the dusty wall,
And the spider-webs, and all!
Rickollect the trimblin' spout
Where the meal come josslln' out--
Stand and comb yer fingers through
The fool-truck an hour er two--
Felt so sorto' warm-like and
Soothin' to a feller's hand!
Climb, high up above the stream,
And "coon" out the wobbly beam
And peek down from out the lof'
Where the weather-boards was off--
Gee-mun-nee! w'y, it takes grit
Even jest to think of it--!
Lookin' 'way down there below
On the worter roarin' so!
Rickollect the flume, and wheel,
And the worter slosh and reel
And jest ravel out in froth
Flossier'n satin cloth!
Rickollect them paddles jest
Knock the bubbles galley-west,
And plunge under, and come up
Drippin' like a worter-pup!
And to see them old things gone
That I onc't was bettin' on,
In rale p'int o' fact, I feel
kindo' like that worter-wheel--,
Sorto' drippy-like and wet
Round the eyes-- but paddlin' yet,
And in mem'ry, loafin' still
Down around old Kingry's Mill!
[an error occurred while processing this directive]