FALLIS FOLLIS Named Places
Some are named for relatives
Google maps may be slow to load - wait for
c
o
l
o
r
e
d
pins to show
Places Named FOLLIS
Follistown, Navan, County Meath is a town and civil parish which had 137 citizens in 1837 and 3,500 citizens in 1881 near Dublin, Ireland in northern County Meath in the Barony of Skreen indicating either a large number of FOLLIS families living there or a prominent FOLLIS family for which the town/parish was named. Interesting is Staffordstown another parish in the Barony of Skreen, about a half mile from Follistown, whose returns were included with Follistown since George Follis, son of Thomas, moved to Stafford County, Virginia - perhaps a desire to symbolically return to Follis ancestral land? In 1839 Follistown was known by the Catholic Parish name Jonestown. An 1851 census first showed Folistown Poor Law Union Dunshaughlin also in County Meath in the Dunboyne Parish and Follisllagh on an 1885 atlas of County Galway. Follistown now appears in Google searches with homes for sale and area businesses. Wiki.FamilySearch.org has a Follistown page. Parlimentary Gazeteer of Ireland has information on Skreen.
Fallis Follis Mills
Fallis and Follis mills in 1760's Frederick County, Virginia need to be clarified for possible locations mentioning Richard Fallis and George Follis in this 2005 Virginia Department of Transportation Report. William Duckworth was the neighbor to Thomas Follis so raises the possibility that his name may really have been Thomas Richard Follis? Frederick County Order Book 7 (1755-1758) (pdf page 95), "2 March 1756, FOB 7, p. 20 Ordered that Richard Fallis, William Duckworth and William Holbrook, being sworn do mark a Road from Joseph Edwards Junr to the main Road at the Bridge over Opeckon Creek and make report to next Court." Frederick County Order Book 9 (1760-1762), (pdf page 122), "1 June 1762, FOB 9, pp. 467-468 On the petition of Sundry of the Inhabitants Living about Mills's Gap praying to have a Road opened from thence to Follis's mill and the main Road at Jane Caldwells Plantation Ordered that John Chinworth Zacquil Morgan Enoch Nash & Thomas Rees or any three of them being first sworn do view the Ground Layed Off & make report to next Court." Frederick County Order Book 10 (1762-1763), (pfd page 123), "7 September 1762, FOB 10, p. 153 John Chinwoth, Enoch Nash & Zacquil Morgan being appointed to View mark and Lay off the ground from Mills's Gap to Follis's Mill and main road at Jane Caldwells Plantation having made their Report Ordered that the said Road be opened according as Laid off and that the Tithables one Mile on each side the said road work thereon under George Follis who is appointed overseer thereof." Frederick County Order Book 14 (1767-1770) Parts 1 and 2, (pdf page 152) "7 February 1769, FOB 14 Part 2, p. 407 Upon the Petition of Sundry Inhabitants of Back Creek praying that the Road from Eaton's Mill through Mill's Gap to Fallis's Mill may be reviewed, ordered that Zadock Springer Levy Springer Abraham Sutton & Isaac Stanly or any Three of them being first Sworne do Veiw the same & Lay off & Alter it as is most convenient & make a Report thereof to the Next Court." (pdf page 155) "5 April 1769, FOB 14 Part 2, p. 457 Zadock Springer Levi Springer & Abraham Sutton being appointed to View the Road from Eatons Mill to Fallis's Mill made their Report. Ordered that the Road be Altered as Marked by them from the Place Opposite to Sutherlands Ford to the Mountain Run and that the Tithables five Miles on each side Work thereon under Abraham Sutton who is Appointed overseer." Fallis, Richard, 84, Follis's mill, 111, Fallis's mill, 141, 144, Road from Eaton's mill through Mill's Gap to Fallis's mill, 141, 144, [Note: Entries for Fallis and Follis are combined.] Road from Mills's Gap to Follis's mill and the Main road at Jane Caldwell's plantation, 111, 112 Road from Eaton's mill through Mill's Gap to Fallis's mill, 141, 144
Jacob Follis had a mill near Jeremy's Run in Shenandoah (now Page) County, Virginia mentioned in the 1807 deed listing his children.
Follis is the name of leather bags designed in New York since 2009 by fellow midwesterner Catherine Meyer.
Follis is defined as Latin from the Roman Empire as a fixed weight of bronze or copper coins.
Darrell Wesley Find-A-Grave photo

Follis Cemetery near Johnson City and West Frankfort, Franklin County, Illinois. Unknown at this time if related as appears to be descendants of William Shelby Follis of England and Halifax County, Virginia
FOLLIS Chapel Gibson County, Tennessee. Located on U.S. Highway 54 southwest of Trenton south of McMurray Road and north of Edison Frog Jump Road. North of Frog Jump,Tennessee. (what a fantastic mailing address!) A William B. FOLLIS is buried here but unknown if he is related.
Dr. C. G. Follis Invitational Golf Tournament since 1972 held in June in South Central Kentucky at the Glasgow Golf and Country Club. C. G. Follis MD. 1913 photograph.
Buy a Follis Drive sign?

In Toronto, Canada there is a street named FOLLIS click to see photo by Jason FOLLIS of Canada. He has a weird story about the difference between FOLLIS with an "O" and FALLIS with an "A".
Finnstown House and Castle in Ireland had a widowed owner who married a Rev. FOLLIS who died in February 1925 according to story 10 on their web page.
Places named FALLAS
Rick McLaughlin photo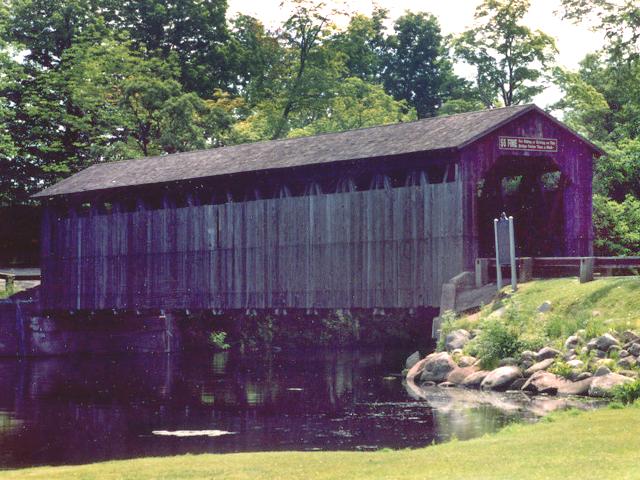 FALLASBURG Covered Bridge in Fallasburg, Kent County, Michigan in Fallasburg County Park. Settled by brothers John W. and Silas S. FALLAS in 1839 from New York, so unknown if related. They have the FALLAS Cemetery with WH born in Boston, Massachusetts. There were FALLIS and FOLLIS relatives in Michigan at this time, just not these brothers. Thanks to distant cousin Jay FOLLIS of Michigan for the original link.
FALLAS Draw, Albany County, Wyoming
FALLAS Paredes, Los Angeles County, California.
FALLAS Paredes, El Paso, Texas
FALLAS Spring, Las Animas County, Colorado
Places named FALLIS
Fallis Craighead County, near Jonesboro Arkansas
Justin Find-A-Grave photo

FALLIS Cemetery in Mount Sterling, Switzerland County, Indiana. The web site only shows 2-4 of what appears to many tombstones. Samuel FALLIS and Rebecca ADAMS are buried there, along with son George Washington FALLIS and wife and their son George M. FALLIS and wife. Samuel was a first cousin to my fourth great-grandfather Isaac FALLIS of Greene County, Ohio. Samuel son of Samuel tombstone is buried in concrete hiding the death and birth information - it's why I don't like cemetery restorations done with the best intentions but lacking proper materials and methods.
FALLIS, Henry County, Kentucky, FALLIS Creek and the former FALLIS post office in FALLIS, Henry County, Kentucky near Brown's Bottom, Gratz and Montery. eBay did have an envelope with an 1898 Fallis KY postmark. Apparently named for descendants of George FALLIS, son of Isaac and Susanna MARTIN FALLIS, a first cousin of my Jacob FALLIS. A post office seal book indicates there should be letters in collections that would contain the Fallis Kentucky seal and it would be nice to have a copy for this web site and my files if anyone has seen or found one. I assume this FALLIS family is buried in the Fallis - Bryant - Knox Cemetery near Pleasureville.
Fallis in Jefferson County, Kentucky, no information. My gr-gr-gr-gr-grandfather Isaac FALLIS of Greene County, Ohio was in the 1810 Federal Census when this was a much larger county.
FALLIS Cemetery near Salvisa, Mercer County, Kentucky contains some of the children of Robert Kirkham FALLIS and Mary ANDERSON buried in the middle 1800's.
Fallis Drive sign

Fallis in Owen County, Kentucky, no information.
FALLIS Jeffries Cemetery in Bedford, Trimble County, Kentucky. Burial location of second cousin five times removed Jesse Simmons FALLIS.
Fallis Cemetery contains 7 FALLIS' near Bethany, Harrison County, Missouri.
FALLIS Cemetery Butler Township, Harrison County, Missouri and Find-A-Grave are descendant of George FALLIS and Caroline REED of Kentucky, second cousins five times removed.
Fallis Methodist Cemetery Ontario, Canada contains descendants of Irish immigrants, in particular Richard FALLIS descendants a native of County Fermanagh, Ireland.
Falliston, Alabama
FALLIS PIONEER CEMETERY Located on the southwest corner of the 160 acre pioneer farm of my great-great-great-great-grandfather Isaac FALLIS about 3 miles northwest of Bellbrook, Green County, Ohio. In 1968 eleven inscriptions were recorded, it was fenced and overgrown with most markers down. It is just over a mile east of exit 7 on I - 675 on the southeast side of Dayton, Ohio and will soon be a part of Dayton as it continues to swallow the countryside. There are 7 tombstones listing 11 people and another 20 or so foot stones and field stones marking an unknown number of burial locations.
Fallis Road north of Loveland, Cinncinatti, Hamilton County, Ohio and Fallis Road Bridge
Fallis Road Columbus, Franklin County, Ohio is probably named for Jonathan Fallis LINTON a grandson of Jonathan FALLIS the Quaker miller and canal builder of Clinton County, Ohio. Jonathan Fallis LINTON was an early land developer in Columbus.
Jonathan Fallis Linton

FALLIS Road Hamilton County, Ohio
Fallis Run a stream in Mercer County, Kentucky most likely named for the patriot Isaac FALLIS fourteen year old drummer boy in the Revolutionary War who died November 26, 1851. He was a first cousin to my great-great-great-great-grandfather Isaac FALLIS of Greene County, Ohio. Fallis Run Road along Fallis Run Creek are near Danville and Harrodsburg
Fallis School near Englewood, Denver County, Colorado named for Edwina FALLIS a first cousin four times removed of Isaac FALLIS of Greene County, Ohio through the George and Mary FALLIS of Virginia line.
Fallis School Livingston County, Illinois near Dwight a historical school indicating it is no longer there.
Go to my page for photographs of Fallis, Lincoln County, Oklahoma, Fallis Road and FALLIS Post Office. Oklahoma Territory was opened for homesteading in 1889, with statehood in 1907. Originally named Mission, it was renamed in 1894 for its first postmaster William H. Fallis. William Henry FALLIS may also have been a county Judge. In 1870 he was a hotel keeper in Lawrence County, Missouri. In 1880 a grocer in Joplin, Missouri. There is also a FALLIS Cemetery from 1893 with no FALLIS' that I know of.
Canada
FALLIS' in Canada appear to be from Ireland in the late 1700's to early 1800's.
FALLIS Methodist Cemetery
FALLIS Cemetery in Victoria County or is it Peterborough County Manvers Township, Ontario?
Places Named FOULIS
Foulis Castle - Ross and Cromarty - Scottish Castles Photo Library, Foulis Castle on Wikipedia,
Places Named FOWLIS
Fowlis Easter and Fowlis Wester in Scotland may be connected to our Scots-Irish tradition
More Fallis Follis pages:
If you find research that adds to, or contradicts mine, please leave a Comment on my Follis Families in the United States Facebook page, or send me an Email.
Page updated: